Expert Insight, Breaking News, and Insider Stories on Real Estate in Paris
Who bought real estate in Paris in 2019?
2019 was an exceptional year for real estate in France, with notaries recording a 7% increase in the number of transactions from July 2018 to July 2019.  Between low interest rates and soaring prices, who exactly is buying real estate in France and its capital these days?  Online real estate broker Pretto reviewed the more than 250,000 real estate loan simulations carried out on its website since the beginning of 2019 to better identify the buyers who planned to invest over the past year.
First-time buyers leading 
76% of those planning to purchase their primary residence this past year were first-time buyers. 60% were between 26 and 36 years old (32 on average), predominately purchasing as a couple with a net monthly income of €2,175 per person. Their down payment was about 8% of the purchase price of the property, i.e. around €20,000.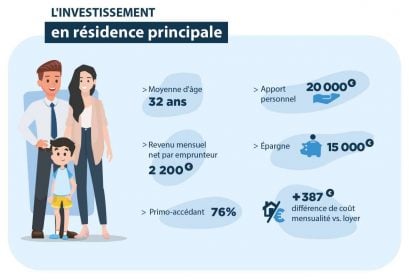 In Paris: dual incomes no kids
With prices per square meter that continued to soar this past year, the buyer profile of those able to afford a property in the capital was more unusual. According to Pretto, the average age of buyers in Paris this past year was 30 years old (60% between 26 and 33), most of them without children. The majority of these buyers (82%) were first-time homeowners.  Half of this group bought as a couple, with a net average monthly income of €3,600 per person and an average down payment of €57,295, or about 14% of the purchase price of the property.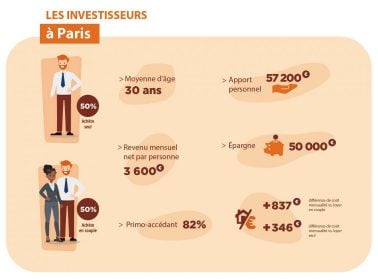 What about rental investments?  
Two profiles emerged for those investing in rental property in 2019: second-time buyers who invest after the purchase of their principal residence, and first-time Parisian buyers who invest in less expensive property elsewhere in France.
On average, the rental investors in the first group were 36 years old, had one child, and generally bought as a couple. They earned an average net monthly income of €2,855 per person and were able to put down 3.6% of the purchase price of the property, or about €6,600.  58% of these rental investments were made outside of Paris.
The second group represents the majority of those who invested in rental property in 2019, at 64%.  Unable to invest in property in Paris as a main residence, these buyers took advantage of historically low interest rates to invest where prices were more affordable, while still benefiting from an attractive rental yield.  These buyers were, on average, 30 years old (with 65% between 26 and 33), and, for the most part, without children. They mainly invested on their own, with an average net monthly income of €3,188 and a down payment capacity of 5% (i.e. around €7,000).
Source: Immobilier : Qui Sont Les Acheteurs De 2019 ?
Contact Paris Property Group to learn more about buying or selling property in Paris.