Expert Insight, Breaking News, and Insider Stories on Real Estate in Paris
Paris property prices post-quarantine should continue to increase, according to notaries
After a slow two months during quarantine, the real estate sector is starting to show signs of recovery.  But is this merely the catch-up effect or is it lasting recovery?  The Paris Chamber of Notaries reports…
For Thierry Delesalle, spokesperson of the Paris Chamber of Notaries, it is still too early to comment on the consequences of the quarantine that has slowed the real estate market for two months. "It has been 15 days since quarantine was lifted.  We do not yet have any hard data, but rather word of mouth reports gathered from colleagues and professionals, like the fact that property visits are happening at full force. Of course, there is also a catching-up effect at play here, but there are also signatures, properties being put up for sale again… Real estate is one of the first sectors where we're seeing a dynamic recovery," he emphasizes.
At this stage, there are, of course legitimate uncertainties about the evolution of the market and the impact of the health crisis. "In this context, and if the government's economic measures are successful, and unemployment doesn't increase too greatly, the real estate market will persist and the price of property in Paris, which is already quite scare, will not fall…  On the other hand, the banks must play along" adds Delesalle, referring to the increased selectivity of financial institutions in terms of granting real estate loans.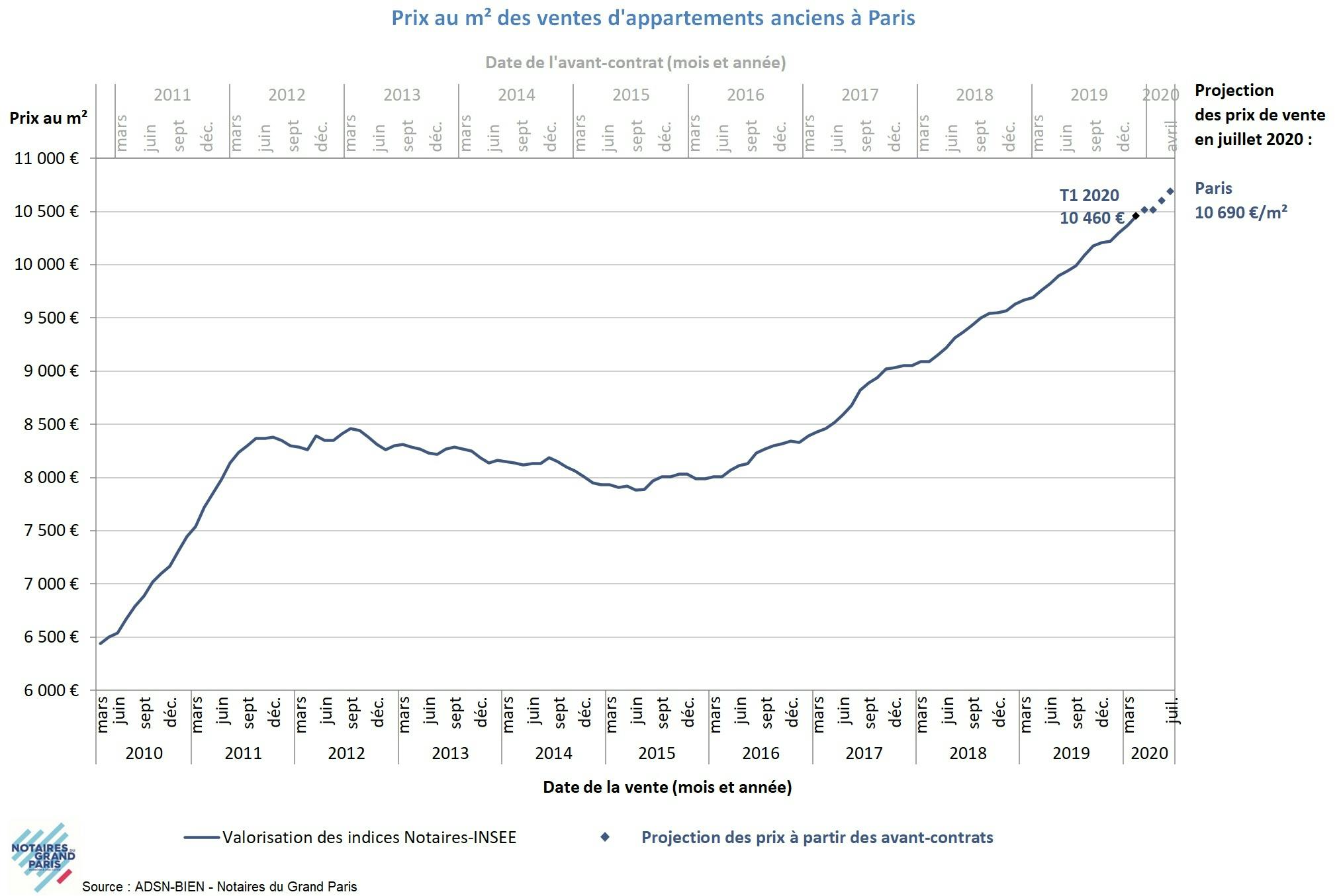 Paris first quarter price map
"Between January and March, average property prices increased by 5% compared to a year earlier.  This was a common trend in Île-de-France and elsewhere in France, for houses as well as apartments," explain notaries.  The price of a Paris apartment today is €10,460/m2 on average ( +8% over a year). According to preliminary projections for July 2020, it will be €10,690/m2 (+ 7.1%).  5 arrondissements are at less than €10,000/m2 and only one, the 20th, is at less than €9,000/m2. The most expensive neighborhood is Odéon (6th) at €16,880/m2 on average, while the most affordable is Pont de Flandres (19th) at €7,950/m2.  It is best wait until September and October to have a better idea of quarantine's actual impact on prices and sales volumes.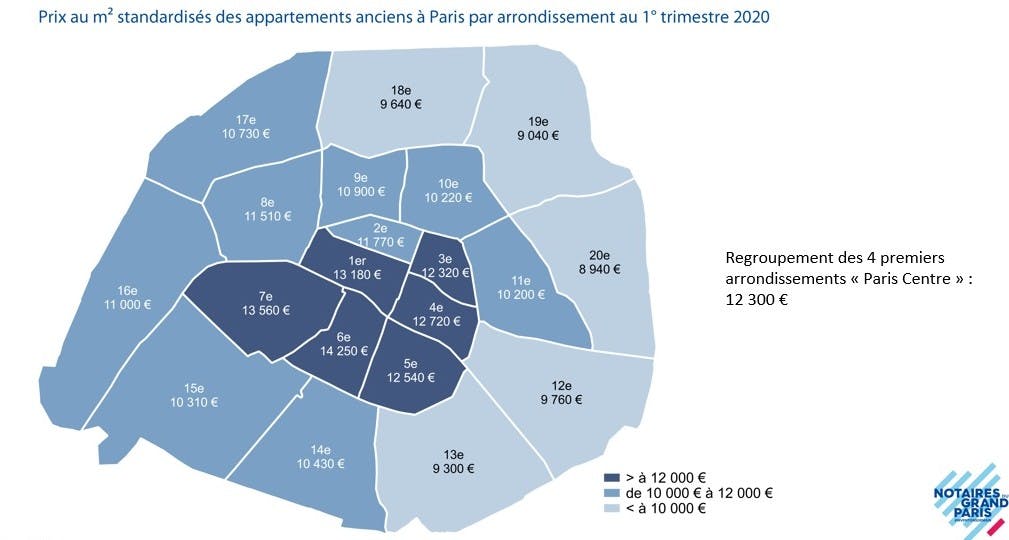 The greatest price increases over 5 years
Over the last 5 years, apartment prices have increased by 23% in Ile-de-France. In Paris, the increase even reached + 32.2% over the same period.  The La Chapelle neighborhood in the 18th (+ 43.3%), and Saint-Fargeau in the 20th (+ 32.6%), have experienced the highest price increases.  In the suburbs, the greatest price increases have taken place in Saint-Ouen (+ 51.3%) and Saint-Cyr-L'Ecole (+ 45%).  As far as houses are concerned, prices have risen by 11% in 5 years. The biggest increases have been recorded in Le Perreux-sur-Marne (+ 40%), Fontenay-sous-Bois (+ 27%), and Saint-Maur-des Fossés.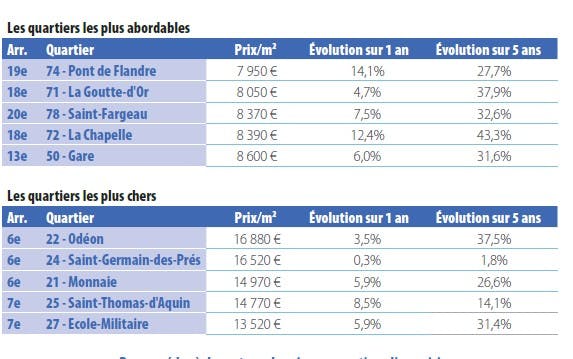 No real estate bubble on the horizon
After a record year in terms of activity in 2019 (more than one million transactions), a drop in sales volume is inevitable. On a national level, notaries estimate that after two months of market paralysis, "150,000 sales will be lost in France. But this makes sense, and it is quarantine that is responsible. The decrease is temporary, not systemic. In Paris, we are not in a speculative market. There is therefore no fear of a real estate bubble," says Deleselle.
Although we should wait until September and October to get a better idea of the impact of quarantine on the real estate industry, notaries ares still cautious about the attitude of banks in terms of granting loans and in the current economic situation. "It is also too early to measure the deeper consequences of the global health crisis on the market. It will have a financial and psychological impact and may change lifestyle choices or ways of working that could have repercussions on the real estate market." 
In the meantime, notaries are predicting an optimistic recovery scenario, with the success of economic support measures and the continued interest French people have for real estate. "Quarantine confirmed the importance of a good home. Because it protects household savings, because other assets have been jostled. Now more than ever, then, real estate should continue to be a reassuring investment and remain a life goal," they conclude.
Source: A Paris, les prix de l'immobilier devraient résister, selon les notaires ; IMMOBILIER : PAS DE BAISSE DES PRIX MAIS MOINS DE VENTES
Contact Paris Property Group to learn more about buying or selling property in Paris.