Expert Insight, Breaking News, and Insider Stories on Real Estate in Paris
It's apéro time: Paris's best wine bars
A nice charcuterie board a good bottle of red, what if that's what happiness is?  In any case, it seems like a good place to start for the team at Le BonBon, who's put together an exhaustive list of some of the capital's best wine bars, the perfect spot to start winding down from summer and begin heading into fall.  Read on to learn more about some of our favorites.
The newest: Au Petit Rozey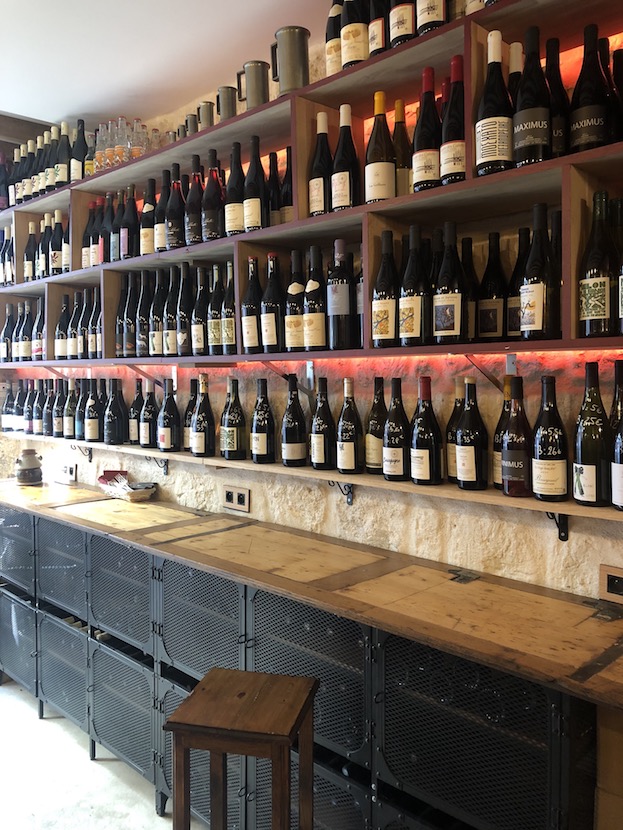 This wine bar has been the delight of residents in the 17th since it's opening in April. Stéphane Rozey, who has been in the wine business for years, and Xavier Benilous, his partner in real estate, are the brains behind the project.  We feel right at home in this former second-hand store turned dry cleaners, decorated with antiques and still sporting its original "Marchandises d'Occasions" storefront sign, ever-visible under layers of paint. All products are carefully selected and the wines, chosen after having met the winegrowers, are tasted several times. Au Petit Rozey has no cook: only Stéphane and Ludivine prepare the charcuterie boards, which change seasonally and often, like marbled ham and jambon de Coche, mortadella with truffles, burrata and grilled vegetables, smoked mozzarella, pâté en croûte, and plates of matured cheeses or smoked fish. In September, new dips and tapas will be on the menu, in partnership with the Michelin-starred Mediterranean restaurant Mavrommatis.
Au Petit Rozey: 43, rue Lemercier – Paris 17
The most welcoming: Chez Nous
At Chez Nous, the concept is simple but effective: drink well, eat well, and have fun, without guilt.  A large chalkboard wall at the entrance serves as the menu, where the selection constantly changes according to the team's latest gastronomic discoveries. The two owners choose wine for their customers based on the client's particular tastes, allowing them to sample as many as they need until they find what they like. They only offer products and wines from small, organic producers, selecting them in their most basic state to be transformed into lovely dishes for their guests. The decoration reflects the authenticity of the establishment, featuring stone walls lined with standing tables that encircle a magnificent wooden table d'hôte, the focal point of the bar.
Chez Nous: 10, rue Dauphine – Paris 6
The most innovative: Les Petits Crus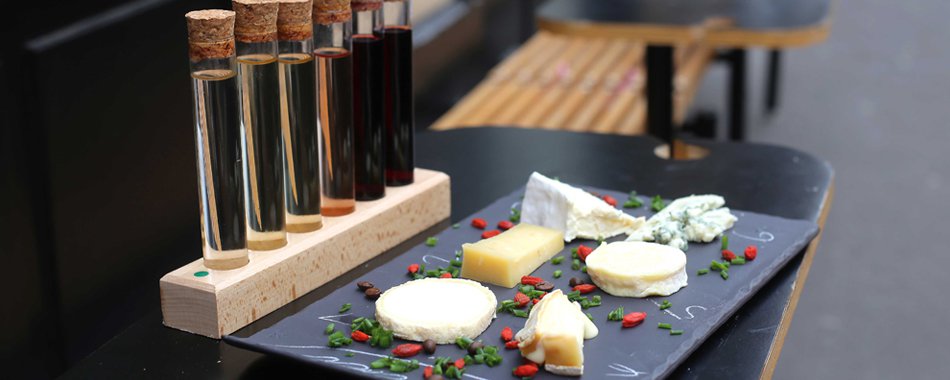 Forget everything you know about wine bars.  At Les Petits Crus, we aren't served ordinary platters of meat and cheese with an average glass of rosé: we are apprentice sommeliers and gastronomes, playing cupid with food and wine pairings.  With a slice of raw milk cheese in one hand and a "vial" of organic wine in the other, patrons are first-hand witnesses to beautiful marriages of some of France's best flavors. For each pairing, we are given a small booklet with information about the products and advice on how to enjoy them. It's easy and fun, and we learn a lot, like how to make white wine with black grapes, for example, or why we call it a "crottin" of goat cheese.
Les Petits Crus: 13, rue Saint-Sabin – Paris 11
The most like at home: En Vrac
Minimal decoration, walls of exposed brick, lights… guests feel right at home at En Vrac. The concept: wine, mostly organic, served directly from the vat in returnable bottles.  Patrons pay anywhere from 4 to €8 per bottle, although the satisfaction of enjoying directly-sourced wine from organic winemakers is priceless. People stop by to fill their bottles, enjoy a glass with the super cool staff, and discover the selection, curated with love.
En Vrac: 2, rue l'Olive – Paris 18
The most authentic: Ô Comptoir du Sud-Ouest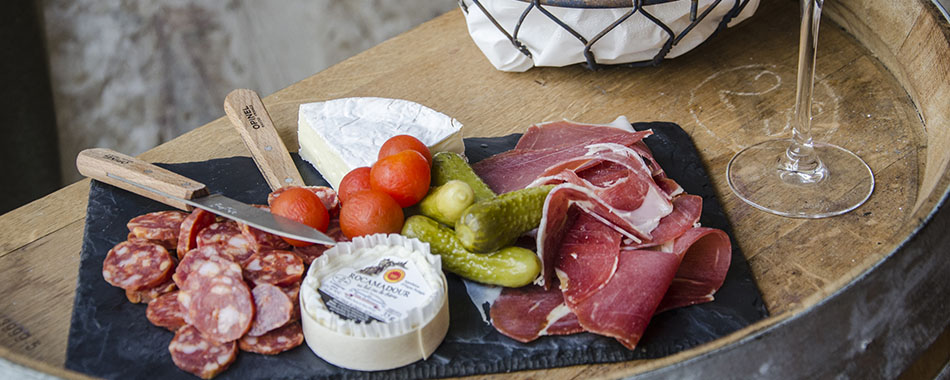 After the success of the bistro in the 8th, Ô Comptoir du Sud-Ouest has opened a wine cellar nestled behind the Centre Pompidou. Here we find a hefty menu, rich in appellations where "you choose what you want. Depending on the specific menu or board, you tick the meats and/or cheeses that you prefer, so there is no chance of being disappointed," says Theo, the bartender, who is just as knowledgeable as Thibault, the manager of both establishments. The two invite food-lovers to savor their simple but tasty offering of salty delicacies, without being afraid to ask any questions they may have.
Ô Comptoir du Sud-Ouest: 167 rue Saint-Martin – Paris 3; 19, rue de Miromesnil – Paris 8
The chicest: La Compagnie des Vins Surnaturels
We could stay in this wine bar for hours, one of the classiest on the Left Bank, with its large armchairs, 1930s feel, warm lighting, fireplace, and glass roof. Rigorously selected from the best producers, the products are divine. The burrata and the prosciutto al tartuffo are exceptional, and if you have any room left, you can tackle the cheese board, offering only the highest quality options. Open every day, you can even spend your Sunday evening there… a rarity in the capital!
La Compagnie des Vins Surnaturels: 7, rue Lobineau – Paris 6
Source: C'est l'heure de l'apéro : Voici les meilleurs bars à vin où trinquer à Paris
Contact Paris Property Group to learn more about buying or selling property in Paris.