Expert Insight, Breaking News, and Insider Stories on Real Estate in Paris
2019: a year of real estate records in France
Upward momentum in the French real estate market continued its course in 2019, with Paris leading the way. Read on to discover the 6 major real estate records that were broken this past year alone.
1. National sales numbers surpassed the record of one million
In 2019, the nationwide record of one million sales was broken, with 1.059 million transactions recorded over a 12 month period at the end of October, according to authentic notary deeds. After three excellent years of business (between 870,000 and 950,000 sales), the appetite for French real estate has thus been largely confirmed. Although low interest rates and increased loan durations play a major role in this growth, the fact that French real estate continues to present itself as a secure investment opportunity is also a key element. Beyond home ownership, people invest in real estate in order to take advantage of the rental market, build solid assets, and provide themselves with a safe haven for retirement.
2. Interest rates hit never before seen levels
At an average of 1.12% across all durations according to Observatoire Crédit Logement/CSA's November analyses, interest rates have never before dropped to such low levels. Rates have been falling since the early 2000s, with a decrease of 2.09% between 2012 and 2019. For Philippe Tabouret, DGA of Cafpi, the party isn't over, either: "Interest rates might still decrease as borrowing conditions are extremely favorable. The US Federal Bank as well as the Central European Bank are both continuing with their accommodative monetary policies. This situation should continue until at least the beginning of 2020. As of now we do not predict any major changes like a sharp increase of inflation, bringing about an increase in interest rates," notes Tabouret.
3. In Paris, the record average price per square meter of €10,000 is shattered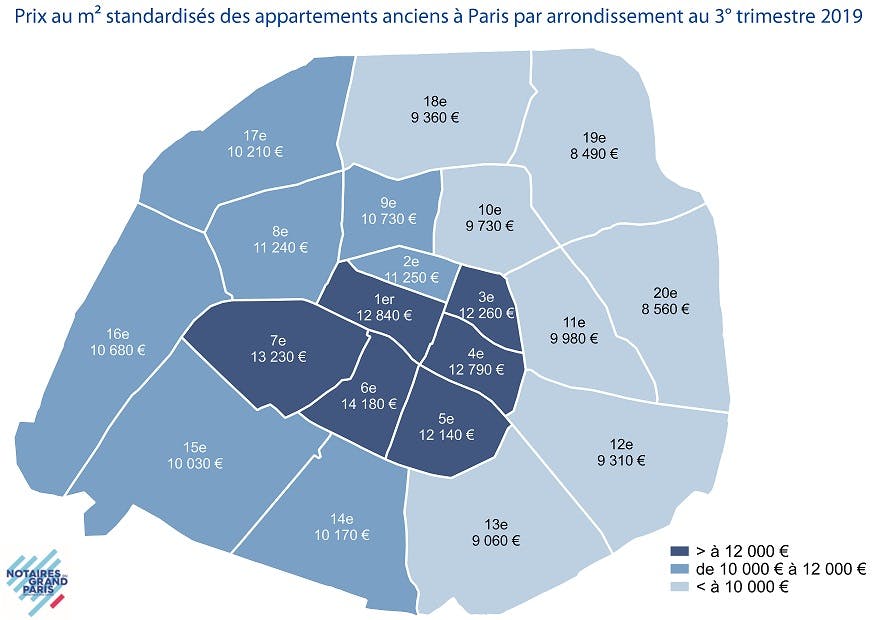 13 out of Paris's 20 arrondissements have an average price per square meter of over €10,000, representing a new partition between eastern Paris, at less than €10,000/m2, central Paris, at more than €12,000/m2, and western Paris, with prices that lie between the two. The two extremes are the 19th, the most "affordable" arrondissement of the capital, with average prices at €8,490/m2, and the 6th, the most expensive arrondissement of Paris, which, for the first time ever, boasts prices above €14,000/m2, at €14,180/m2. Within these arrondissements, La Goutte d'Or (18th) averages €7,950/m2 while in Odéon (6th), the average price of an apartment peaks at €16,000/m2. Among those records filed by notaries, a two-room apartment in Montparnasse found a buyer at €38,595/m2, while a 455 m2 house in La Muette (16th) with a 374 m2 plot of land was sold for €10.4 million.
4. 79 avenue des Champs Elysées is sold for 613 million euros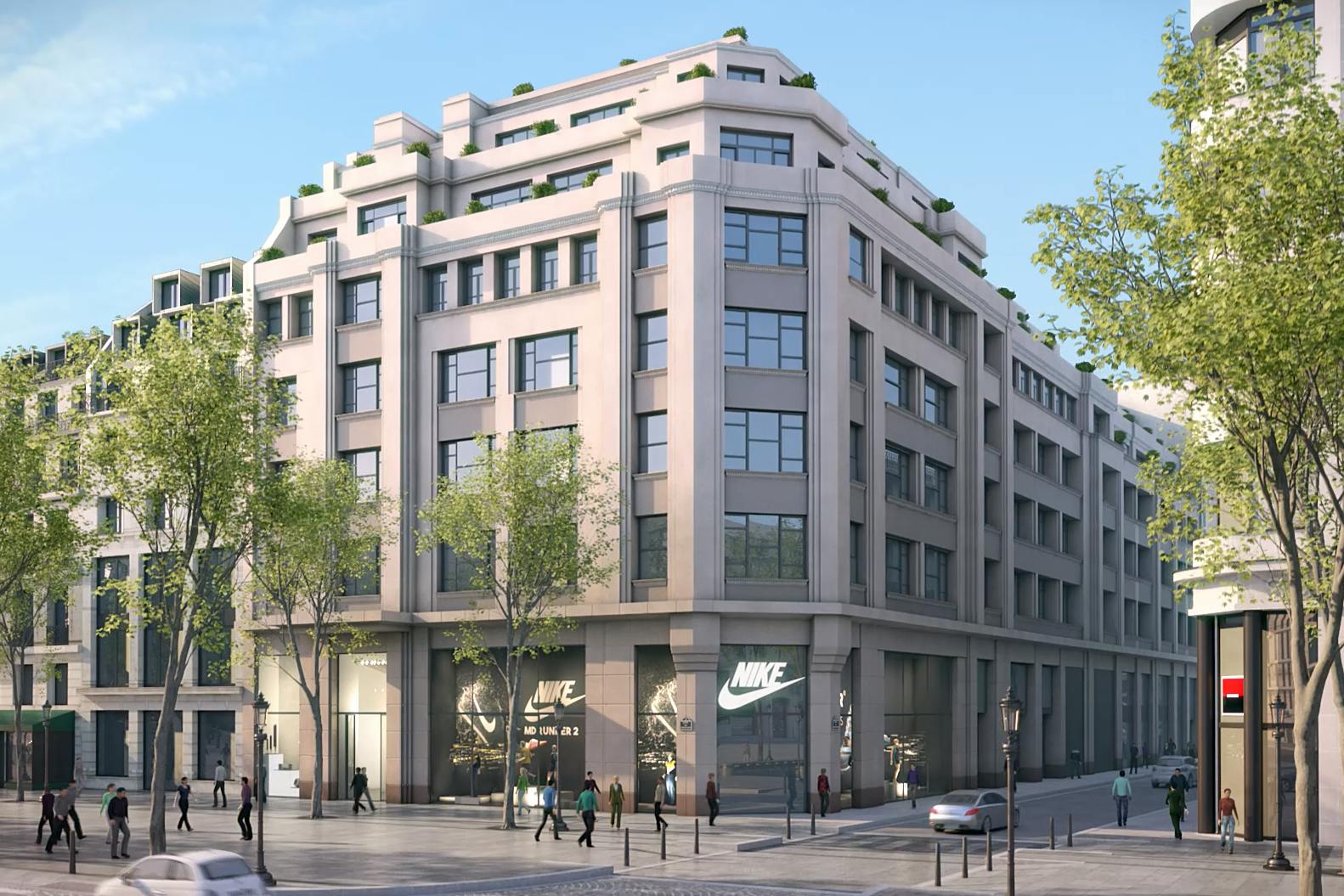 Groupama Immobilier sold the building at 79 avenue des Champs Elysées to Norwegian sovereign wealth fund Norges Bank Investment Management for 613 million euros, a record sale for some 4300 m2 of space on the Champs Elysées. "Completely renovated, this Art Deco-style building will house Nike's largest flagship store in Europe. Nike has chosen the capital and this legendary address to present its third "House of innovation," after those in Shanghai and New York, this fall. The group will also set up team offices on the upper floors of the building. At the very top lies one of Paris's most spectacular rooftops, boasting wood floors and lush vegetation, with 360° views of the capital. "says Groupama Immobilier.
5. A chateau in Cannes is sold for more than 50 million euros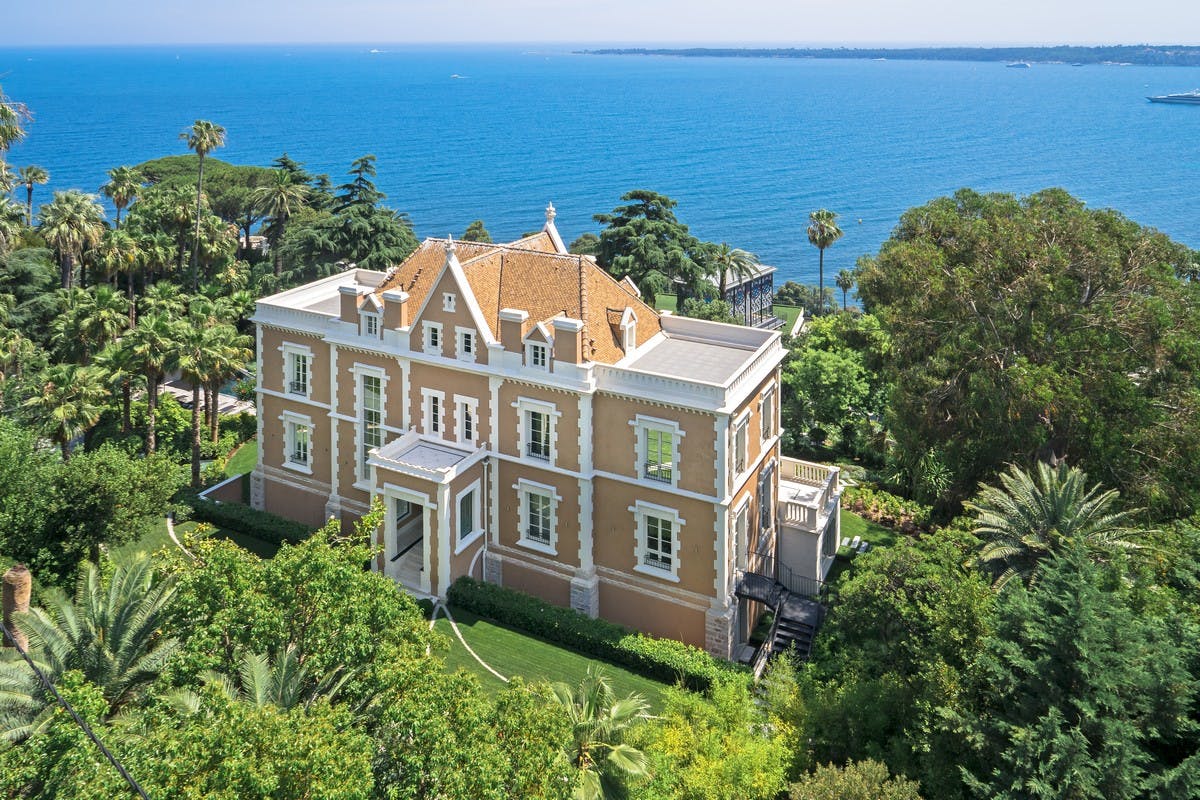 The former home of Aristide Boucicaut, founder of Le Bon Marché, was sold by Michäel Zingraf Christie's International Real Estate in Cannes. After being on the market for quite some time and initially listed for a price of 55 million euros, the Château de Soligny found a new owner, a buyer from Eastern Europe whose identity remains a secret.  This extraordinary chateau, nestled in a private 8,000 m2 park atop the hills of Cannes's California district, has been entirely refurbished by the FINAMAS Group.
6. A new duplex penthouse in Cannes is acquired for €70,000/m2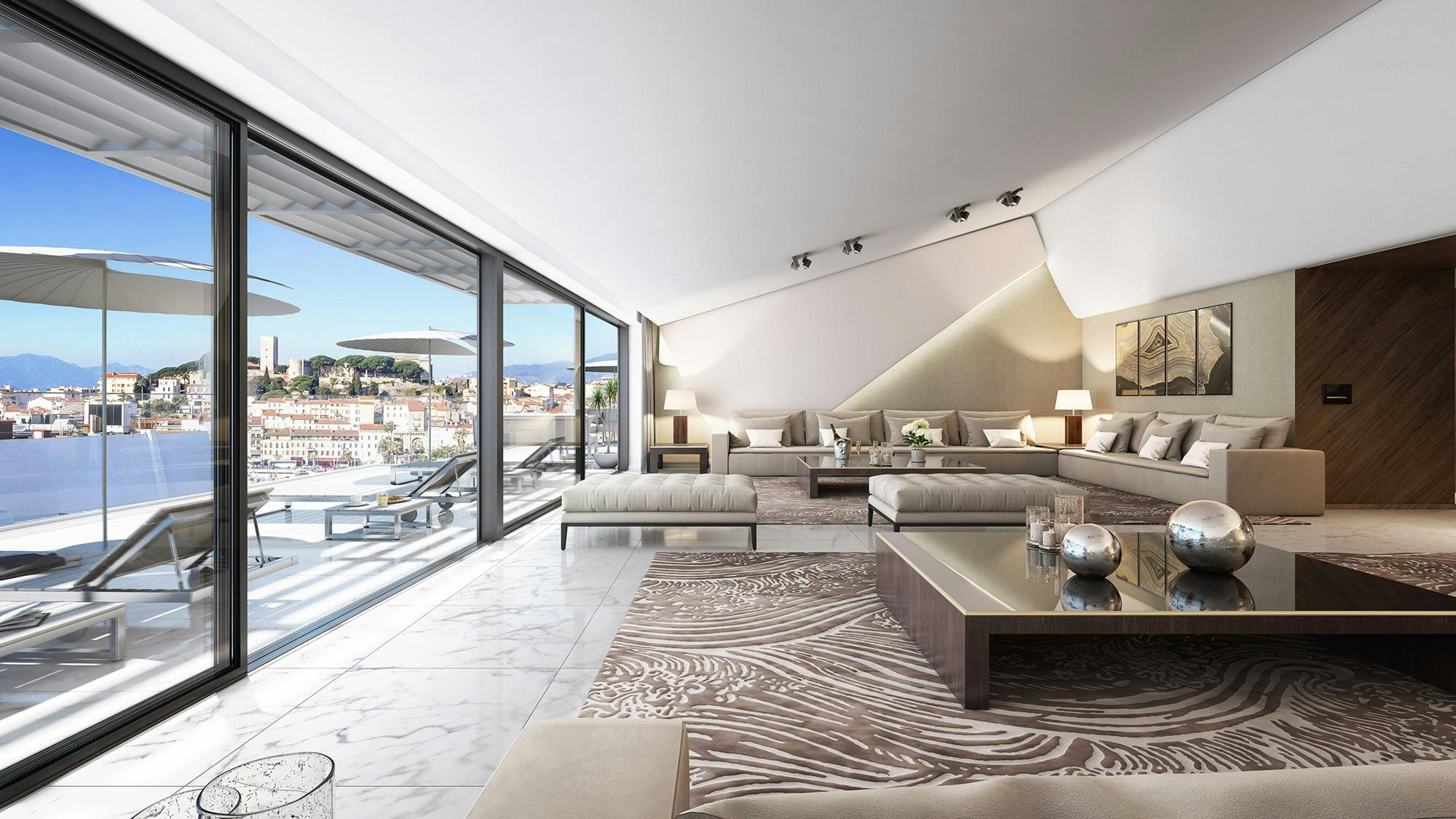 Again in Cannes, a 650 m2 duplex penthouse on the 8th and 9th floors of a future luxury residence sold at a record of €70,000/m2. The property is located in the new First Croisette residence, on the boulevard de la Croisette, facing the Palais des Festivals, developed by the FINAMAS group and marketed by Knight Frank. The duplex penthouse apartment also boasts a 160 m2 terrace and has a private swimming pool with a view over the bay. Its advertised price is around €70,000/m2 (about €45 million) and is expected to be ready in the 4th quarter of 2020.
Source: Immobilier : 2019, année des records
Contact Paris Property Group to learn more about buying or selling property in Paris.