Expert Insight, Breaking News, and Insider Stories on Real Estate in Paris
Urban renewal projects in France will lead to real estate investment in Parisian suburbs
Urban renewal projects around France have become a national priority as lawmakers aim to curb the number of city-dwelling citizens that head to the outskirts of town. France's "Action cœur de ville" plan will allocate a budget of €5 billion over five years to improve infrastructure and business development in 222 medium-sized French cities.  This could particularly benefit real estate agencies and investors specializing in both commercial and residential real estate throughout the country, most notably in Île de France.
A snowball effect
Shopping is at the heart of concerns when it comes to revitalizing French city-centers. For a number of years, local shops situated in city centers have been forced to compete with large commercial areas located outside of cities, as well as online shopping portals.  With the threat of bankruptcy, many small shop owners no longer dare to settle in the city center.  This lack of storefronts, as well as the jobs and commercial benefit that comes with them, leads to somewhat of a dead-zone.  Potential buyers lose interest in the area, which in turn harms residential real estate.  In order to stimulate business, and thus residential real estate, the French government has set up its "Action cœur de ville" plan for 222 of its intermediate-sized cities, many of which lie in Paris' suburbs.
Real estate groups are well aware of the need to overhaul city centers and have not hesitated to make proposals. Some 90 members of FNAIM (La Fédération nationale de l'immobilier) met in Saint-Malo on April 10, 2017 to submit proposals regarding commercial asset development in the city center. In particular, the FNAIM has proposed the creation of a joint and several commercial lease in neighborhoods and small towns with a vacancy rate exceeding 10%. The aim would be to help shop-owners continue operating and to facilitate the transition of newcomers to these areas.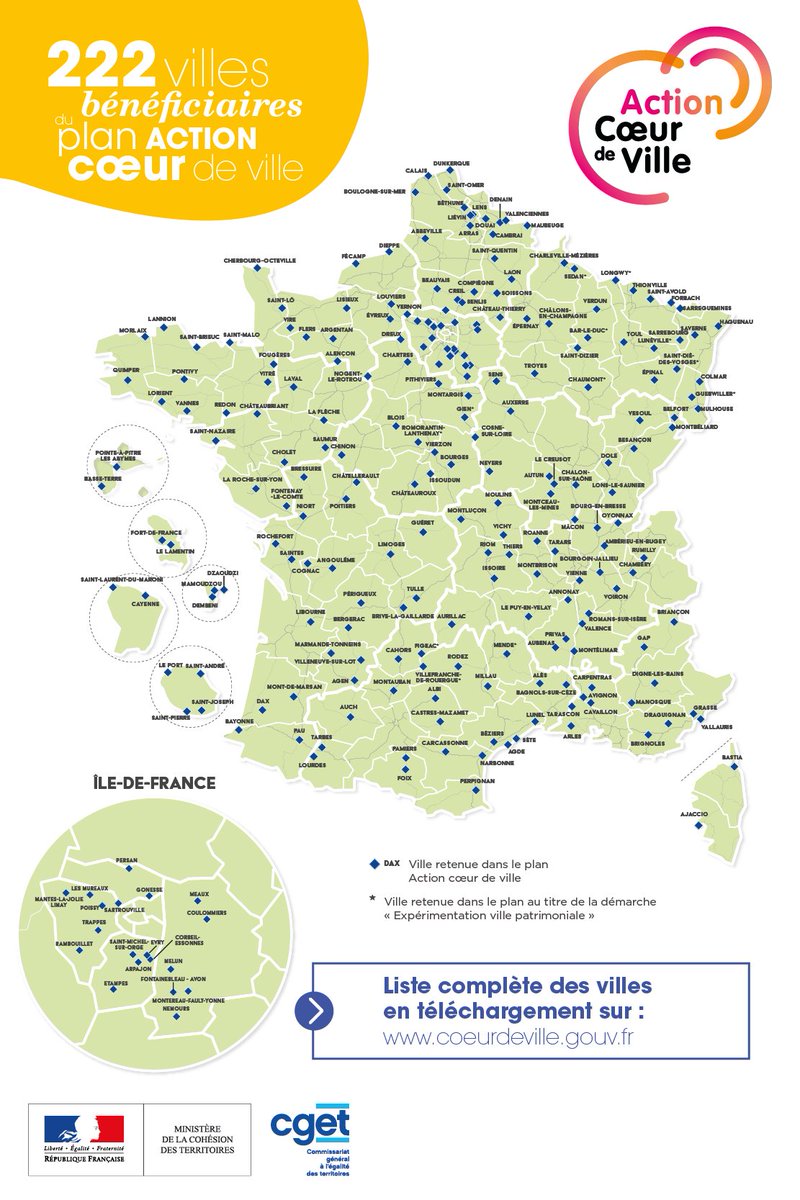 Tax measures likely to benefit the residential real estate market
The Senate also addressed the issue by adopting a national pact to revitalize 700 town and village centers that have been left somewhat neglected by the population (la Pacte national de revitalisation des centres-villes et centres-bourgs).  In particular, the Senators would rely on taxation to persuade residents and shop-owners to return to these areas and settle.  Some of the measures adopted by the Senate include the construction and rehabilitation of housing in prioritized OSER areas (opérations de sauvegarde économique et de redynamisation), an increased income tax reduction (up to 75%) for those offering free use of space to associations, and the creation of an income tax credit for incurred costs during housing renovations. These tax measures, if adopted by the National Assembly, would certainly help to bring individuals back to the city centers. 
In this context, the "Action cœur de ville" plan is an opportunity for residential and business real estate investors looking towards Paris' suburbs.  Some of the cities selected as part of the initiative include Gonesse, Poissy, Sartrouville, Trappes, Rambouillet, Évry, and Melun.  With the Grand Paris Express changing the way we think about these cities outside of Paris, the transformative "Action cœur de ville" program should also positively affect future investment potential in these areas.
Sources: Redynamisation des centres-villes : une réelle opportunité pour les agences spécialisées dans l'immobilier résidentiel ; Programme « Action cœur de ville » : la grande transformation pour les centres-villes démarre
Cover photo by besopha [CC BY-SA 2.0]
Contact Paris Property Group to learn more about buying or selling property in Paris.