Expert Insight, Breaking News, and Insider Stories on Real Estate in Paris
Updated Paris price maps: by neighbourhood
Discover the updated price map of Paris' 20 arrondissements, complete with actual listings.
The average price per square meter in Paris could very soon reach 10,000 euros.  According to notaries, this symbolic price point could be become a reality by the beginning of the new year.  
For several months, journalists at Capital, monthly French economics and business magazine, have collected and compiled data from real estate agents to establish precise price points, arrondissement by arrondissement, street by street.  Rare are the areas not affected by the current market frenzy.
Coveted by new international clientele, particularly the British, the heart of Paris (1st and 2nd arrondissements), has seen its prices increase from 6 to 7% in one year. In the 9th and 10th, the most gorgeous properties now edge toward 14,000 euros per square meter.  Not to mention the 13th and 14th arrondissements, where sellers have the luxury of picking and choosing the buyers willing to pay the most.
As far as buyers are concerned, historically low mortgage rates support them, even though the low number of properties available on the market has been naturally keeping prices up.
Read on for more complete information regarding pricing information in each arrondissement. 
NOTE:  Prices shown are average net-to-seller with no agency fees included.  Properties on higher floors, in good condition, or with desirable features can go for substantially over the average price.

1st and 2nd Arrondissements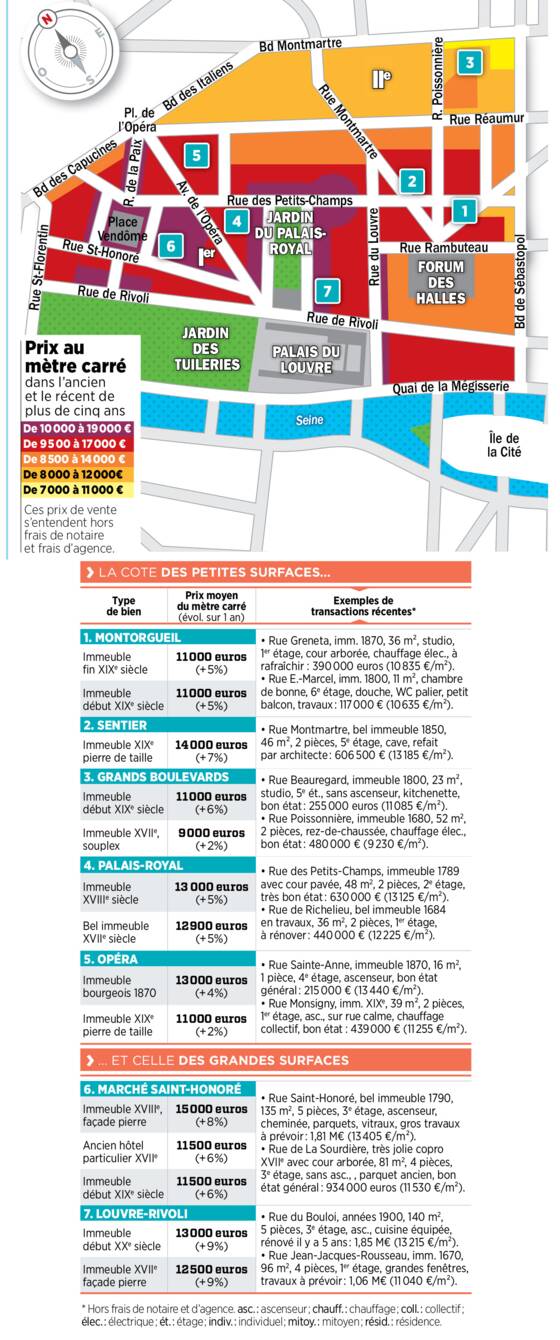 International buyers, particularly the Brits, have definitely made a comeback in this arrondissement, accentuating the 6 to 7% price increase affecting even those areas that were already overpriced, such as Palais-Royal, rue Saint-Honoré or la Place des Victoires.  Look at rue Richelieu, where a renovated maid's quarter of 11 meters squared was sold for 128,000 euros (11,635 euros per square meter). Heading towards Sentier, we see the infiltration of startup companies complicating things. With the development of open office space, space left for residential areas is becoming scarce.
The situation is also changing north of these central sectors. Rue Montmartre and rue Poissonnière, where neighboring textile shops and condominiums have not yet been renovated, have good potential, even if some exceptions have been noted.  Take the example of two different three-bedroom apartments on rue Montmartre: the first apartment, 73 meters squared with a rooftop view, in a building with an elevator, went for 82,000 euros (11,290 euros per meter squared). However, the second apartment, a duplex-style space of 69 square meters with a terrace, in a building without an elevator, sold for 1.17 million euros (nearly 17,000 euros per square meter).  Another area that should appreciate: rue du Louvre. After the renovation of the Forum des Halles, the future Fondation Pinault will make it a really upscale neighborhood.
3rd and 4th Arrondissements

With strong inflation in these arrondissements, prices have gone up 5 to 10% overall. The northern section of the 3rd in particular has skyrocketed (up 10%), as well as the upper Marais, toward le Marché des Enfants-Rouges (rues de Bretagne, Charlot…) and les Archives (rues Vieille-du-Temple, de Turenne), where the average price of a property in good condition can reach 13,500 euros per square meter. Two bedroom apartments are subject to stiff competition. Wealthy enough to do so, some buyers make offers without the condition of a loan. Only Beaubourg, which suffers from noise and a lack of neighborhood community life, progresses little.
In the 4th, family estates of 70 to 120 square meters are nabbed almost immediately, at prices almost always higher than 15,000 euros per square meter.  A 93 square meter property on rue du Bourg-Tibourg with a balcony and herringbone parquet flooring, on the fourth floor of a building with an elevator, was sold 1.565 million euros (16,830 euros per square meter). As far as large, family-sized apartments are concerned, they require a budget higher than 2 million euros, and are monopolized by foreign customers.
For a good deal, head to boulevard Morland. New businesses will allow the sector to improve in five to ten years. On l'île Saint-Louis, we are finally seeing the relapse of the 19,000 euros per meter square peak due to the rise of the euro.  However, a renovated property at 89 square meters on rue des Deux-Ponts, overlooking the Seine, still cost 1.41 million euros (15,900 euros per square meter).
5th and 6th Arrondissements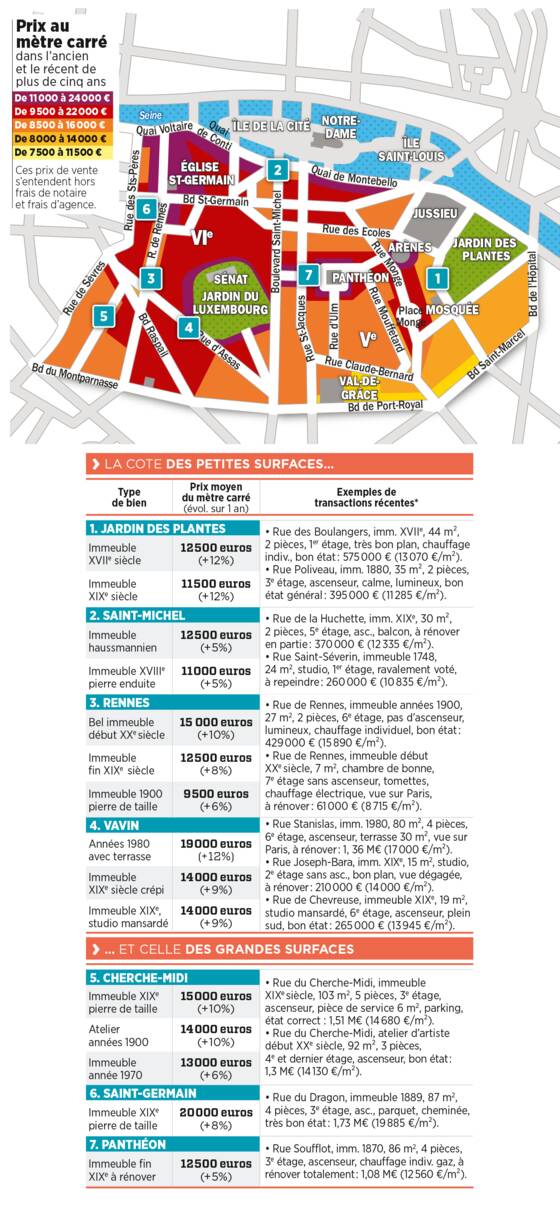 In the 5th arrondissement, even eccentric and out-dated housing edge toward the 10,000 euros per square meter high following high inflation (up 5 to 10%).  A property of 97 meters squared on boulevard Saint-Marcel dating from 1956 sold for 960,000 euros (9,900 euros per square meter). In addition to this rapidly growing set of ​​outer boulevards, other major inner thoroughfares near Saint-Michel or Maubert-Mutualité are still quite popular.
Furthermore, the surroundings of place Monge are appreciating even faster, at 12,500 euros per square meter. This is due to "inflation, among other things, justified by the foresight of the owners, who have restored 90% of the facades in the area in the last ten years.
Strong inflation has also been recorded in the 6th (up 8%).  Although truly exceptional properties or those with a view are worth up to 20,000 euros per square meter, the same doesn't necessarily ring true for the so-called belles addresses. On rue de Sevres, a space of 123 square meters, in good condition within building built in the 70s, has thus cost 1.68 million euros (13,660 euros per square meter). Foreign customers, from the United States and South America, are active in this area, aiming for pied-a-terres at about 70 to 80 square meters.
Prices remain about the same as we head towards rue de Notre-Dame-des-Champs, where an late nineteenth century un-renovated seven-room duplex-style apartment at 118 square meters, sold for 1.56 million euros (13,220 euros per square meter). To find anything cheaper you have to aim for the surroundings of la gare Montparnasse, or the south of rue de Rennes. However, the renovation of the Montparnasse tower should boost prices.
7th and 8th Arrondissement

In the seventh, in spite of a 2 to 6% inflation increase, the gap between flawless properties and those with some defects widens. This is the case with two neighboring fourth floor spaces on rue Saint-Dominique. The first, 59 square meters, with elevator and beautiful view, went for 14,660 euros per square meter, while the second, at 50 square meters and without elevator, went for only 12,400 euros per square meter.
It's important to note the scramble for un-renovated spaces.  Buyers want a home that reflects them, and the price of newer spaces may sometimes be comparable to that of a property needing some simple refreshing.  Buyers are seduced by the new shops on rue Cler, and values are likely to go up.

In the 8th, although wealthy clients pay a lot for spaces between 150 to 230 square meters (2.7 million euros, for example, for a beautifully renovated 180 square meter space on rue de Penthièvre), they negotiate at the slightest defect. For prices below the 10,000 euros per square meter mark, head towards the Europe area where the upside potential is 5 to 7%.
9th and 10th Arrondissement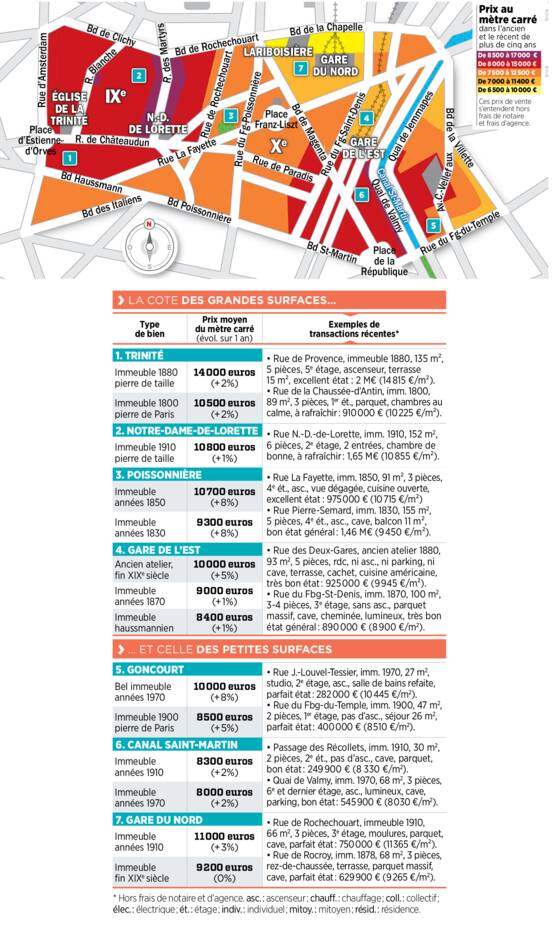 These arrondissements have once again experienced a high inflation of about 5%, with the most expensive properties edging on 14,000 euros per square meter. In the ninth, three and four bedroom apartments from 70 to 90 square meters in buildings of dressed stone are still being nabbed left and right by families. In the star areas of des Martyrs and Notre-Dame-de-Lorette, however, prices are beginning to stabilize, ranging from 11,000 to 13,000 euros per square meter.  The sector that has made the most progress is the one around rue de la Boule-Rouge.
In a building from the 1800s on rue de Trévise, a four-room apartment at 93 square meters,  in good condition and with great amenities, sold for 1.05 million euros (11,290 euros per square meter). Towards Poissonnière, properties are also appreciating substantially. Only in the northeastern area, between la rue du Delta and Barbès-Rochechouart, are there properties under the 10,000 euro mark. Like a studio of 28 square meters in a condo built in 1977, that sold for 277,000 euros (9,895 euros per square meter).
In the 10th, the renovation of la place de la République has stimulated the market.  On rue Boulanger, a four-room 1900s apartment at 157 square meters sold for 1.7 million euros (10,830 euros per square meter) despite being in a noisy part of town. Beyond there, between le canal Saint-Martin and Belleville, prices are lower than those of the neighboring nineteenth arrondissement (Jourdain and Laumière), although they should catch up in the months to come. For now, however, current trends are apparent on rue du Faubourg-du-Temple, where a two-room apartment in good condition at 42 square meters, in a luxurious eighteenth century building, was sold at 370,000 euros (8,810 euros per square meter).
11th and 12th Arrondissement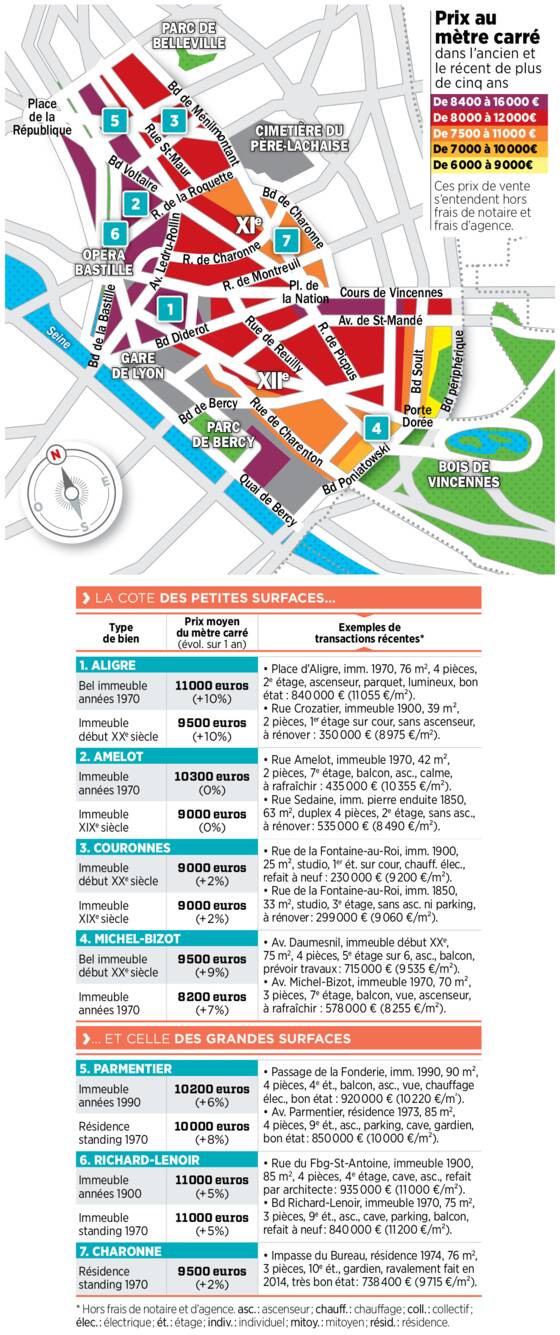 To live in a space at less than 10,000 euros per square meter in the 11th, buyers have to accept some shortcomings.  For example a south-facing three-room apartment at 59 square meters, with elevator, cost only 561,750 euros, or 9,520 euros per square meter, but is located on the very noisy rue Oberkampf.  Other sectors remain promising, such as the top of rue Jean-Pierre-Timbaud, where a more affluent clientele is moving in.
The arrival of investors is also reported between boulevard Voltaire, la rue Popincourt, and la rue du Chemin-Vert, where the mayor is trying to stem the concentration of textile wholesalers.
However, it is the twelfth, where the price per square meter rarely exceeds 10,000 euros, that offers the best potential. On rue Claude-Tillier, at metro Reuilly-Diderot, a studio at 22 square meters, in good condition, and on a quiet street, was sold for only 217,300 euros. Among the neighborhoods to target: le marché d'Aligre (predicted 10,500 euros per square meter) and the Gare de Lyon, a seemingly better investment than neighboring Bercy, deemed too expensive. "After having climbed 10% in one year, prices should continue to appreciate," announces Florian Marjolet of Cosim. In competition with the towns of Saint-Mandé and Vincennes on the other side of the peripherique, the neighborhoods around Daumesnil and Michel-Bizot should see a great reduction in their price per square meter, which had drastically risen from 500 to 1,000 euros per square meter.
13th and 14th Arrondissements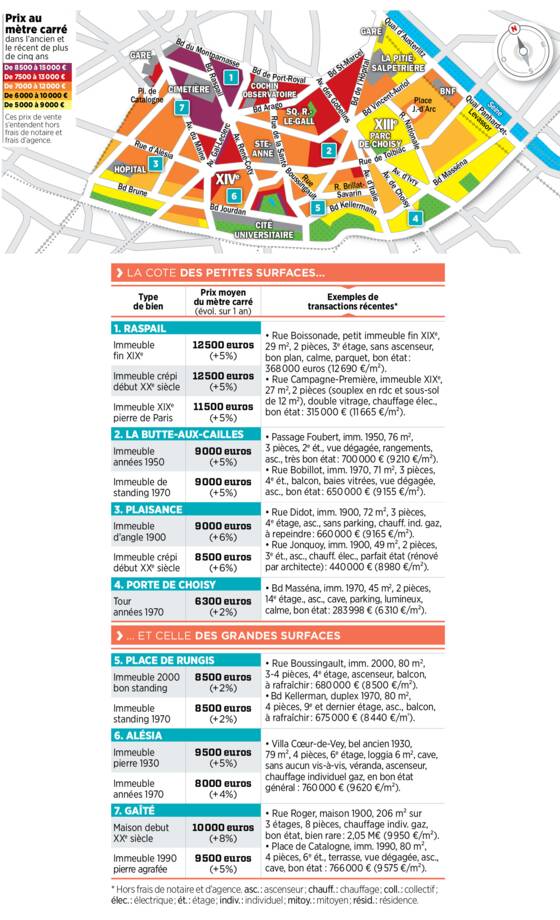 Inflation in these two arrondissements ranges from 5 to 8%. In the fourteenth, it affects all properties, whether they are in Alésia, Vavin, or Daguerre.  Two and three bedroom apartments are rarer than ever. Sellers are demanding regarding the financial profiles of prospective buyers. They tend to favor those able to provide the largest down payment. Even the Didot neighborhood is catching up, notably thanks to the availability of new properties. Good deals can be found near la Porte d'Orléans. The price per square meter is only 7,000 euros, 30% less than that near Alésia.
In the thirteenth, prices near la Butte-aux-Cailles continue to climb. A two-room apartment at 29 square meters yielded exactly 10,000 euros per square meter.  However, rue Tolbiac has proven itself a kind of border, with prices around 9,000 euros per square meter to the north of this street, and 8,500 euros to the south, towards la place de Rungis. This southern zone, as well as Maisons-Blanche, boasts much investment potential with the future southern extension of the Line 14.
15th Arrondissement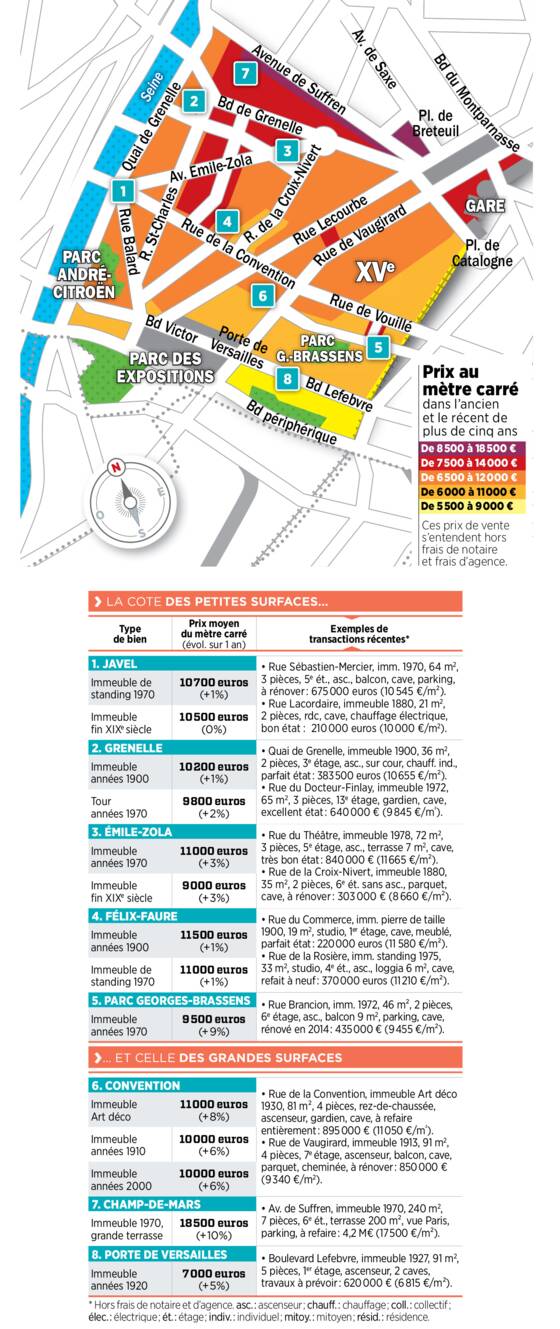 In this arrondissement, we see contrasting evolutions. After a strong rise (up 25% in three years), the Balard and Beaugrenelle sectors, competing with prices in the southern 16th arrondissement and Issy-les-Moulineaux, are at a standstill. "In Grenelle and Javel, even the cost of properties greater than 1 million euros has begun to decline. On the other hand, in the center of the arrondissement, inflation has reached 5%.  Although the noisy rue du Commerce is less popular, families turn to parc Georges-Brassens, where the square meter for large, multi-room apartments is at 8,000 euros. Case in point: A 117 square meter apartment on rue Labrouste, with multiple large balconies, negotiated at 935,900 euros in all.
Investors are also on the hunt this sector, especially those in their thirties who buy while still renting, in order to arrange their finances for their first-time buy. Their target: old maid's quarters, negotiated anywhere from 110,000 to 120,000 euros for 11 to 13 square meters. This neighborhood should logically continue to appreciate.
16th Arrondissement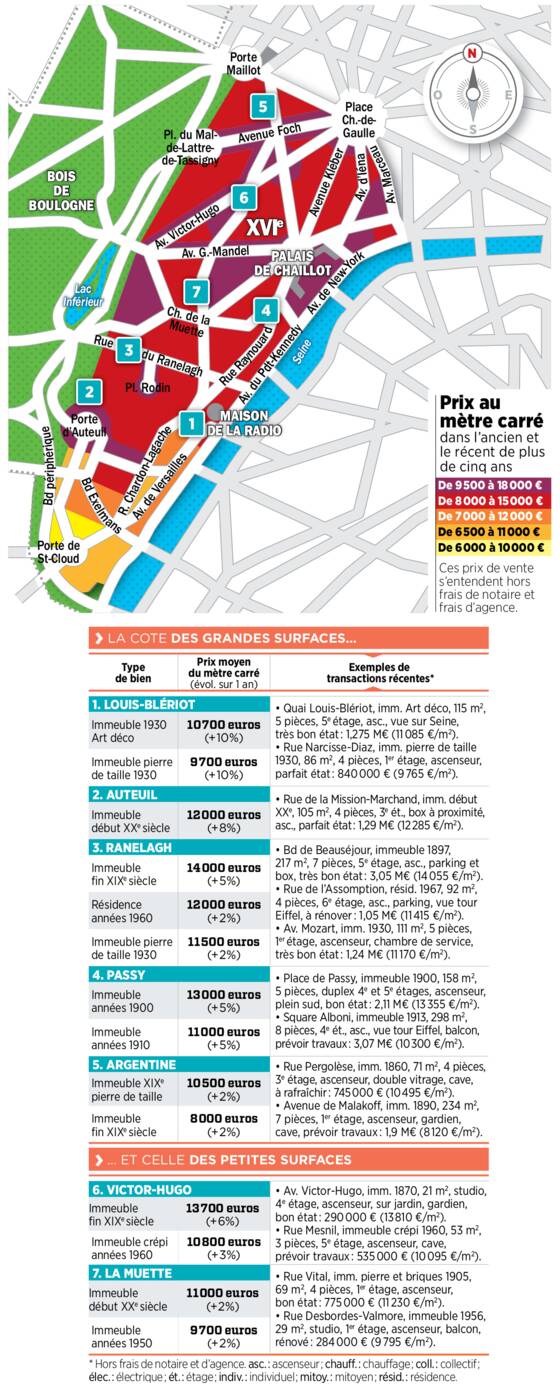 Unbelievably, there is still good business to be had in this arrondissement after a price climb of 5% last year. Case in point, an un-renovated 84 square meter apartment on rue Scheffer, near Trocadero, sold as part of an inheritance. Located on the sixth floor, with parking and direct access by elevator, it was sold at 823,000 euros, just under the bar of 10,000 euros per square meter. Once renovated, it will be worth 12,000 euros per square meter. This same price point is also present as you near la Porte de Saint-Cloud, where capital gains are likely.  Case in point on rue du General-Delestraint, where an un-renovated apartment at 130 square meters, on the ground floor of a 1930s condominium, complete with a nice courtyard, will cost only 803,000 euros (6,175 euros per square meter).
Some neighborhoods, however, are in high gear, like Auteuil, up 10 to 20%, where buyers must pay around 12,000 euros per square meter. In the heart of the Village d'Auteuil, an apartment of 60 square meters even went for 810,000 euros. The buyers found this price of 13,500 euros per square meter affordable compared to prices on the Left Bank where they came from. The sixteenth doesn't only attract this type of buyer, however, and a general decline in traditional (lower budget) clientele from the fifteenth has been noted.
17th Arrondissement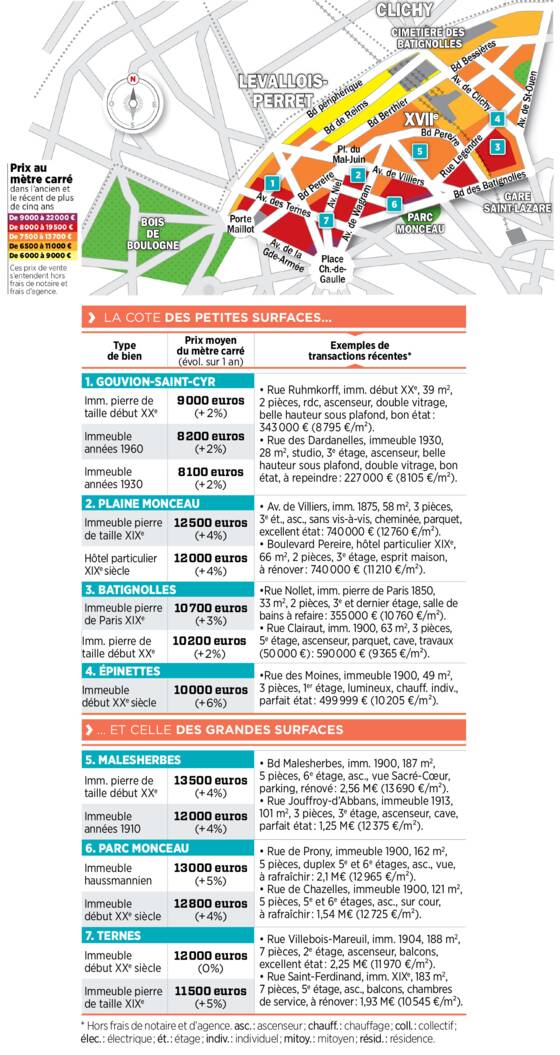 The impact of the new courthouse is apparent throughout the eastern part of this arrondissement, with a 10% increase in price.  This effect even touches the area north of Guy-Môquet, a sector that has so far been spared. Thus, the un-renovated, 1950s villa Lantiez, at 74 square meters, was sold for 655,000 euros (8,850 euros per square meter). To the west of the rails leading to Gare Saint-Lazare, the surroundings of Pont-Cardinet have also appreciated, in preparation of the northern extension of the Line 14.
Of course, the streets adjacent to la place des Batignolles remain the most expensive, at more than 10,000 euros per square meter, much like the area around Place Charles-Fillion. However, inflation continues to spread to even more distant addresses. Case in point for a 70 square meter apartment on rue Caroline which went for 760,000 euros (10,855 euros per square meter), despite requiring 30,000 euros worth of renovations.
As far as well-off families are concerned, they avoid certain arteries because of the school zoning.  Thus rue de Salneuve, rue de Tarbé, and part of rue de Saussure have been abandoned. They fall under the zoning of the new Collège La Rose-Blanche.  To note finally: apartments beyond a million euros suffer a sharp discount at even the slightest defect. A ground floor apartment at 209 square meters on rue Theodule-Ribot, yielded 1.55 million euros, or only 7,415 euros per square meter.
18th Arrondissement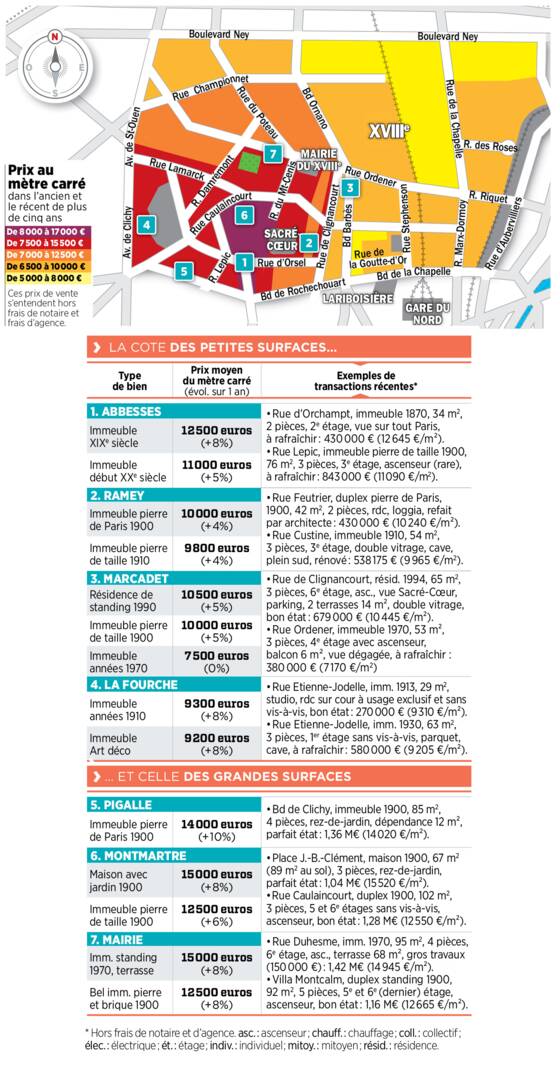 Prices have soared from 4% to 10%, and even properties near Abbesses, much like on Avenue Junot, have never cost so much.  Although properties boasting both a view of Paris and an outdoor space are worth more than 15,000 euros per square meter, others fluctuate between 10,000 and 11,000 euros.  Take for example a ground-floor apartment near Abbesses: this 20 square meter space within a building built in the 1900s, complete with a small inner courtyard and high ceilings, sold for 213,000 euros. To have such an exterior, some buyers are willing to give up the idea of living in an old Parisian property.
The strongest growth is in the Jules-Joffrin sector, near the town hall (rues Sainte-Isaure, du Poteau, etc.), where the square meter stands at 9,400 euros. On rue Ferdinand-Flocon, a three-room apartment of 52 square meters in perfect condition went for 515,000 euros (9,905 euros per square meter). Inflation has also been noted around la rue de l'Olive, where prices have been negotiated at 9,000 euros per square meter, that is, 1,000 euros more than last year. As for the Boulevard Barbès, it now exceeds its own bar of 8,000 euros per square meter.  In this area, a young couple bought an apartment at 80 square meters in perfect condition within a building dating from the 1910s, for 670,000 euros (8,375 euros per square meter).
Another solution for families looking for larger spaces, the Guy-Môquet area.  On avenue de Saint-Ouen, a Haussmann-style apartment of 107 square meters sold for 870,000 euros (8,130 euros per square meter).  Although it will undoubtedly take time, prices should swell toward la Porte de la Chapelle, with continued neighborhood improvements and the extension of tram line T3 to la Porte d'Asnières by the end of 2018. Prices there are starting at 5,000 euros per square meter.
19th and 20th Arrondissements

In the nineteenth, inflation strikes more towards La Villette, up 5 to 10%, than in Stalingrad, up 3 to 6%. At la Porte-de-Pantin metro station, rue Eugène-Jumin in particular looks promising. It is here, for example, that a small two-room apartment went for nearly 9,500 euros per square meter, despite being on the fifth floor of a building without an elevator. Buyers come to this area in droves, especially from the center of Paris, looking for quality spaces.  Take an apartment at 28 square meters on quai de la Marne, with an elevator and loggia, which sold for 278,000 euros (9,930 euros per square meter). Towards the town hall, ever-increasing rates range from 9,000 to 9,300 euros per square meter.
Although inflation is high in the twentieth arrondissement (up from 5 to 10%), demand is mostly concentrated on two and three-room apartments.  Between Jourdain and Gambetta the price per square meter is around 9,000 euros, while towards the heights of Ménilmontant it's at about 8,000 euros. Case in point: two different two-bedroom apartments, one at 54 square meters on rue de Ménilmontant and the other at 52 square meters on rue de Pixérécourt, selling for 436,000 and 425,000 euros respectively.
Contact Paris Property Group to learn more about buying or selling property in Paris.