10 (+1) of the best boutique hotels in Paris
Posted on October 17, 2012 by Paris Property Group
We often get requests for Paris hotel recommendations, particularly from clients coming to Paris on their real estate shopping trip. In an article last year, our friend and Paris blogger Heather Stimmler-Hall scouted out her picks for 10 of the best boutique hotels on the Left Bank – that won't break the bank. To round out her list, we add our personal choice of the best boutique hotel in all of Paris (river bank and piggy bank aside).
La Maison Favart
Top on our list of incredible boutique hotels in Paris – on either bank of the Seine – is La Maison Favart. Named for the iconic couple Charles-Simon FAVART, playwright and one-time director of Paris' Comic Opera, and his wife Justine, the ballerina and actress Mademoiselle Chantilly, the hotel was redone to much acclaim earlier this year. The décor is a self-described "theatrical jewel-box", a tastefully updated take on classic 18th Century style. The rooms are a tasteful mix of Toile de Jouy, velvet and satin, each elegant and unique; the bathrooms are elegant, modern and the whole is very well-kept. Guests are offered a full or continental breakfast, and can wind down the day in the whitewood sauna, or with a soak in the relaxation bath – both nice touches for a small boutique hotel. Located on a quiet side street in the heart of the bustling 2nd arrondissement, you are a stone's throw from the Comic Opera and a few blocks from the Palais Royale or the Place Vendome, on down to the Tuileries Gardens and the Louvre. We have had nothing but the best feedback from our clients about the rooms, the staff, the service, and their stay.
• 5 rue de Marivaux, 2nd, +33 1 4297 5983, lamaisonfavart.com. Métro: Quatre-Septembre or Richelieu-Drouot. Doubles from €200
Still not enough to woo you over from the left bank? Read a summary below of Heather's Guardian picks for 10 boutique hotels on the other side…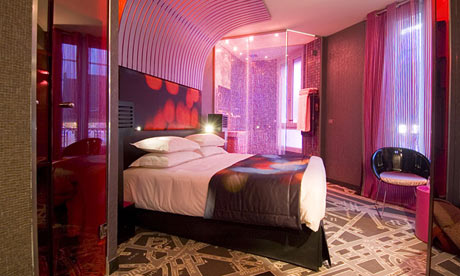 Hôtel Sublim Eiffel
A contemporary kitsch boutique hotel, with Métro map carpeting and Paris skylines screened or lit on walls and curtains. The one suite and other rooms on the top floors have views of the Eiffel Tower a few blocks away. Amenities include a steam room and fireplace bar.
• 94 boulevard Garibaldi, 15th, +33 1 4065 9595, sublimeiffel.com. Métro: Sèvres Lecourbe. Doubles from €189
Hôtel Design de la Sorbonne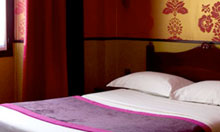 In the heart of the Latin Quarter, a recently-renovated stylish boutique hotel. Rooms boast lush, colorful fabrics and wallpaper, new bathrooms and an iMac for surfing the web or watching a DVD. Each floor showcases a different themed photo exhibition. The Pantheon, Luxembourg Gardens and Notre Dame are just a few minutes walk away
• 6 rue Victor Cousin, 5th, +33 1 4354 5808, hotelsorbonne.com. Métro: Cluny-La Sorbonne or RER Luxembourg. Doubles from €165
Hôtel Bonaparte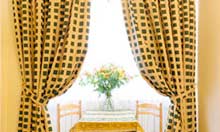 A stylish budget hotel in one of Paris' most expensive neighborhoods, Saint Germain des Prés. The décor is somewhat outdated, but the rooms boast classic 19th-century elements such as stone fireplaces and crown moldings, and the coveted air conditioning for the sticky summer months.
• 61 rue Bonaparte, 6th, +33 1 4326 9737, hotelbonaparte.fr. Métro: Mabillon. Doubles from €130
Hôtel Petit Belloy St Germain
Behind the Odéon Theater just off of Boulevard Saint Germain, rooms in this classic boutique hotel are comfortable and tastefully decorated, with double-paned windows to shut out the noise. Location, location, location.
• 1 rue Racine, 6th, +33 1 4326 8713, hotel-petit-belloy-saint-germain.com. Métro: Cluny-La Sorbonne. Doubles from €165
Hôtel du Cadran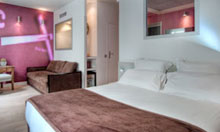 In the western 7th arrondissement just off the popular rue Cler market street, this modern boutique hotel is one of the standouts in the neighborhood. The rooms are comfortable and modern, with a self-described "Zen minimalist" design. Rooms all have air conditioning and double-glazed windows.
• 10 rue du Champs de Mars, 7th, +33 1 4062 6700, cadranhotel.com. Métro: Ecole Militaire. Doubles from €115
Hôtel 7 Eiffel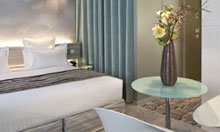 Even the small rooms in this contemporary design boutique hotel feel more spacious, thanks to furnishings and layout that is well thought-through. Marble bathrooms have separate toilets, rain shower heads, bathrobes and Fragonard toiletries. Open-Space rooms with private balconies have a generous, luxurious feel. The top floor of the hotel boasts a hidden terrace garden, perfect for enjoying the view over the rooftops of Paris.
• 17 bis rue Amélie, 7th, +33 1 4555 1001, hotel-7eiffel-paris.com. Métro: La Tour-Maubourg. Doubles from €185
Hôtel de Lille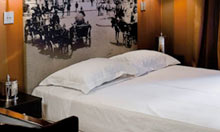 Most of the rooms in this old coaching inn on the prestigious rue de Lille in the heart of the Carré des Antiquiaires have been given a complete modern makeover, including tasteful décor and air conditioning.
• 40 rue de Lille, 7th, +33 1 4261 2909, hotel-paris-lille.com. Métro: Rue du Bac. Renovated doubles from €160
Hôtel La Manufacture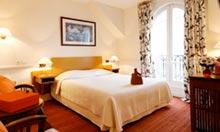 Off the beaten path but well-located in a lively residential neighborhood, a contemporary budget hotel. Rooms are basic but bright, with art deco-inspired décor and some with small balconies. Splurge for a deluxe top floor room for €195 with a view over Paris.
• 8 rue Philippe de Champagne, 13th, +33 1 4535 4525, hotel-la-manufacture.com. Métro: Place d'Italie. Doubles from €165
Le Fabe Hôtel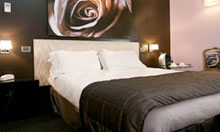 A small boutique hotel away from the tourist crowds, with themed rooms mixing contemporary fabrics and furnishings with Louis XVI chairs. Great access to the Paris Expo exhibition center, Montparnasse train station and the Orly Airport, it's a comfortable, good choice for the short-stay business traveler who still wants to feel like they are in Paris.
• 113 bis rue de l'Ouest, 14th, +33 1 4044 0963, lefabehotel.fr. Métro: Pernety. Doubles from €90
La Maison Montparnasse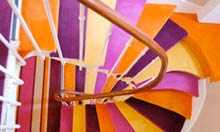 In the same neighbourhood as Le Fabe, each room of this family-run hotel boasts it's own color scheme in pink, yellow, purple, or orange, toned down with high-quality bedding and tiled bathrooms in white. A ground-level breakfast room with a small patio garden are a nice way to start the day.
• 53 rue Gergovie, 14th, +33 1 4542 1139, lamaisonmontparnasse.com. Métro: Pernety. Doubles from €119
American-born travel writer and tour guide Heather Stimmler-Hall is a dual-citizen who has lived in France since 1995. She is the editor of the Secrets of Paris newsletter and blog, and has written for Fodor's Guides, Michelin Green Guides, Moon Metro Guides, Time Out, ELLE.com, the Guardian and the London Times. Heather is the author of several travel guides, including "Paris & Ile de France Adventure Guide" and the award-winning "Naughty Paris: A Lady's Guide to the Sexy City".